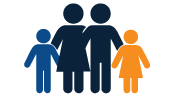 If you or your family is going through a difficult family law situation, you should consult an experienced attorney that can help you with your legal issues. I am compassionate, knowledgeable and experienced. I can provide you the help that you need. I handle all types of family law situations, including:
There are many reasons why you should consider hiring a family law attorney:
I am passionate about helping families in challenging and stressful situations. I will do what I can to get you through this difficult time so you can move on with your life, helping you negotiate the process involved with family law along the way through quality and affordable legal representation.